Cancer Central
Find out how Cancer Central uses content from the NHS website in their service.
About Cancer Central
Cancer Central is a social enterprise that helps people affected by cancer. It uses artificial intelligence (AI) to guide them to the support and information they need.
The team signed up to the free NHS website syndication APIs, which allow users to reuse content from the NHS website. This meant they could provide clinically verified, up-to-date information to their users.
"Working with the Syndication team made this process so easy."
Cancer Central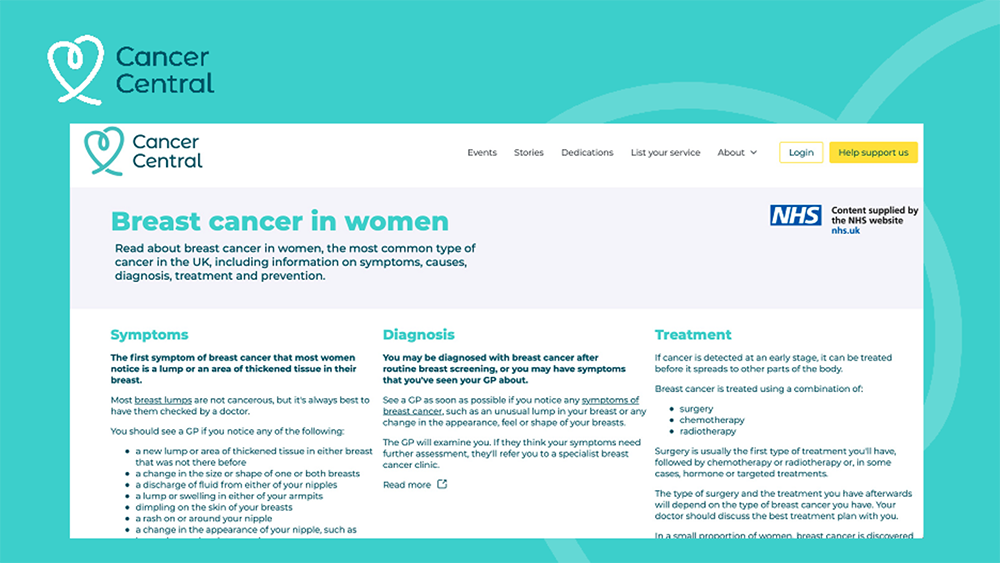 Modularised content
The NHS website's content management system (CMS) allows 'labels' to be added to each section of content on a page of information about a health condition. The labels describe what each section covers.
This makes it easier for organisations using NHS website content to identify the sections of content they want to offer their users, whether it's information about symptoms, causes, self-care, medical treatments, or anything else.
Cancer Central use the modularised NHS website content available in syndication APIs to provide a text messaging service, giving less digitally-literate users bite-sized chunks of information.
"We find this form of content enables us to present the data in multiple formats and across various platforms that is easier for the end user."
Cancer Central
Get started with our APIs
If you're interested in using content from the NHS website in your product or service, find out about how to start using our APIs.